Welcome to the BRYC NEWS 2021
Sunday 18/4/2021.......IOM Barry Gailer Trophy
This morning the skippers where greeted with a chilly start to the day and by a northerly breeze at about 10 mph. Whilst the nine skippers rigged the course was set by today's Race Officer Mel who set a triangle course with a sausage and a downwind finish.
Unfortunately by the time of the first start we lost Tony due to rigging failure thus reducing the fleet for the rest of the day to eight. Today also saw the first outing of the year for the 2 John's, Carment and Hanton.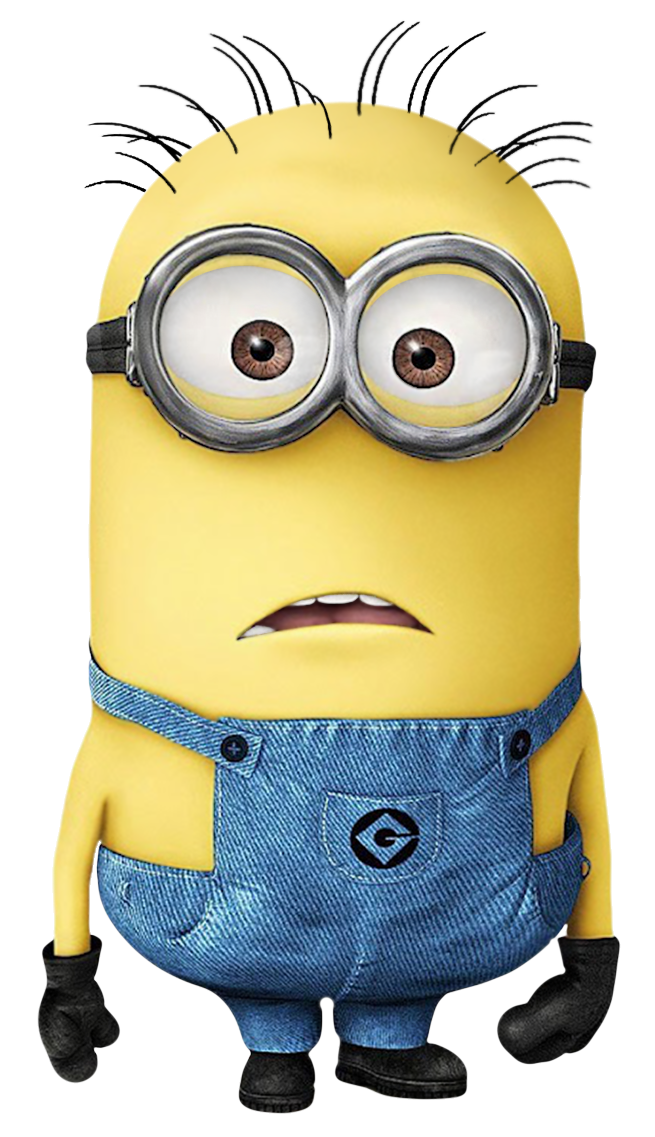 Four races where sailed before we stopped for our coffee break with John H and Vinnie each winning 2 races. A further 8 races where sailed after the break with John H winning a further 5 races with Eric picking up the other three.
Following on from yesterday's racing at Norwich Vinnie confirmed that a visit to Spec Savers was needed sooner rather than later.
Once the scores where added up, John H took first place overall, Eric 2nd, Vinnie 3rd and Nigel sailing Gareths boat ( his still not ready ) in 4th place. CLICK HERE FOR RESULTS
Thanks go to Mel for not only for his race officer duties but also for both setting the course and collecting the marks at the end.
This Wednesday sees once again the IOM class back on the water and Sunday the 25th. the first outing this year for the 6M.
Regards, Nigel
********************************************************************
Wednesday 14/4/21....... RM Porter Cup
This morning was the first time this year for the Marblehead's for round 1 in the Porter Cup.
The 4 skippers taking part where joined during the course of the morning by a further club members keen to see these boats on the water.
With the wind coming from a northerly direction again Vinnie set the course of a triangle and a sausage. As the skippers rigged so the wind increased and it was decided that one and all should change down which delayed the start somewhat.
Coffee was taken after 2 races followed by a further 7 giving 9 races in total. At the end of the day Vinnie took a clean sweep with 9 first places. The racing between the other 3 skippers was a lot more competive with Derek 2nd, Mike 3rd and Nigel 4th. CLICK HERE FOR RESULTS
My thanks go to Vinnie for course setting, Barry for doing the scoring and last but not least Derek for recovering the marks at the end.
This Sunday sees the IOM's back on the water for round 3 of The Barry Gailer Trophy with Mel as race officer. Also teas and coffee's will be available on site. Please bring the right monies...... Nigel
****************************************************************
Sunday 11/4/2021...Barry Gailer Trophy
One R/O 8 skippers and 2 non sailing bods where greeted lakeside by a strong northerly bitter wind, at 9.45 am about 7-12 mph gusting 15++ mph with Eric's anemometer ( should use one more often? ).
Whilst Neil as R/O set the course the eight skippers the the number 2 rigs was the choice of the day. (Its really good to see Neil again after so long.)
In total 12 races where completed with only 5 Boats going the distance. At the end of proceedings Eric took first place overall with Mel second and Derek third. CLICK HERE FOR RESULTS
My thanks go to Neil for his duty today and to the others that helped both ends of racing with marks etc.
Can I remind you that sailing for the week ahead is as follows:
Tuesday 13th 6 meters at Norwich with a 4pm start,
Wednesday 14th RM at Filby with the normal start of 10 am,
Sunday 17th is IOM with Mel as R/O again at Filby 10 am.
For those 6 meters skippers that can please support the Tuesday evening sailing at Norwich.
Also we had more presentations for last year, 2020......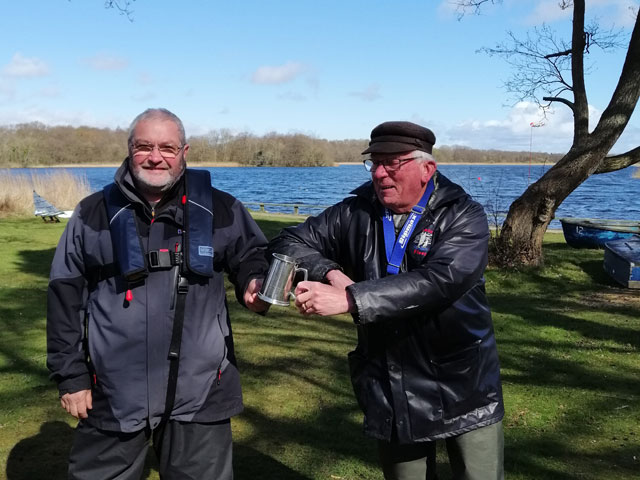 Barry Gailer Trophy ( Tankard) IOM first series 2020......Won by Neil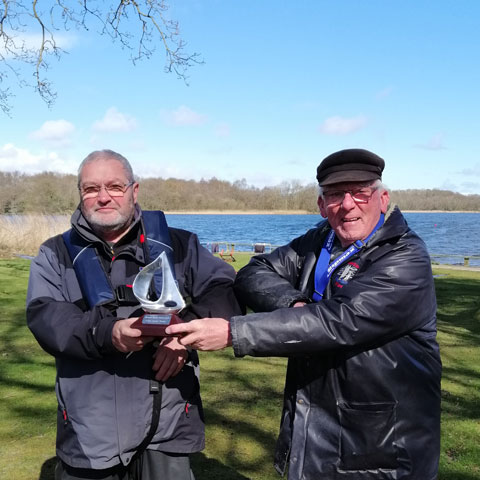 Little Audrey Trophy - 6 meters 2nd series 2020.....
Also won by NEIL !
Well done to Neil !
******************************************************************
Wednesday 7/4/2021..Old Codgers Trophy
What a difference a week makes. This week your correspondent woke to snow on the ground. On reaching the lake we were greeted by a cold wind from the west at about 12 to 14 mph.
Today was to see Nigels new boat hit the water for the first time only to suffer rudder servo failure just after the start of the first race thus leaving 8 boats to complete in the rest of the days racing.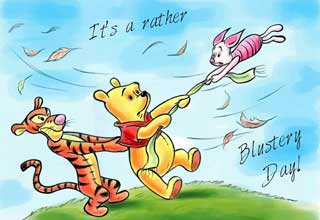 Due to the winds we had a number of retirements in the early races with various problems. A coffee break was called after 3 races when most of the fleet bar Vinnie and Matthew decided to change down to the number 2 rigs.
After a poor start to the mornings proceedings Vinnie went on to win the last 6 races to take the honours on the day. CLICK HERE FOR RESULTS
Sunday the 11th sees the IOM taking to the water for heat 2 of the Barry Gailer Trophy.
Please note that the following Wednesday the 14th will be the turn of the Marblehead's to take to the water for their first outing of the year. AND !!!!....there is an evening Six Metre sail at Norwich next week . All invited ! I believe it is next Tuesday 4pm, but confirm with Vinnie please.
*********************************************************
Sunday 4/4/2021 .. Barry Gailer Trophy
A beautiful day for the first of our competitive races.
A steady..ish westerley enabled us to race without too many lulls. Vinnie started disastrously with a 2nd place in the first race but held it all together and inspite Mel chasing him hard in the first five races and Eric keeping him honest in the last three, his luck held out and he scraped through winning four of the eight races to count.Well done Vinnie! CLICK HERE FOR RESULTS
Also,on this day, our revered Secretay in chief presented some of last years trophys that had remained unpresented due to "that virus that shall not be named" . The presentation physically being delegated to Michael. Probably due to fear of the afor mentioned virus ( or Vinnie ). Anyway.....Michael obviously enjoyed himself.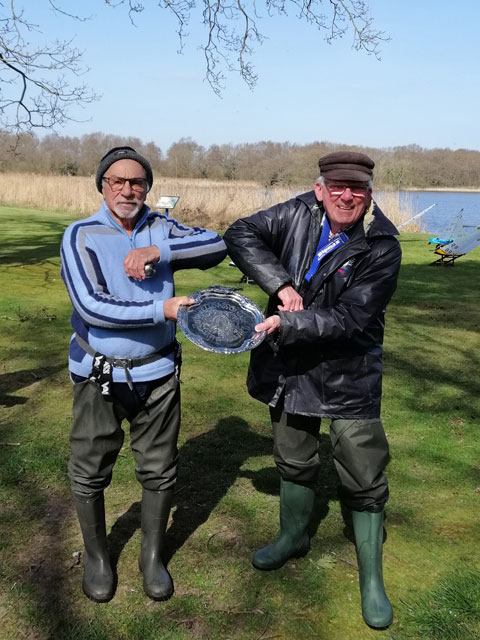 2020 JUBILLEE PLATE goes to ..... VINNIE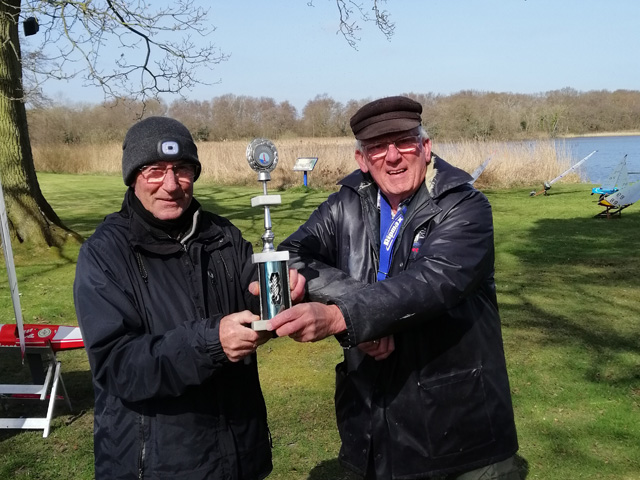 2020 OLD CODGERS TROPHY goes to.......MEL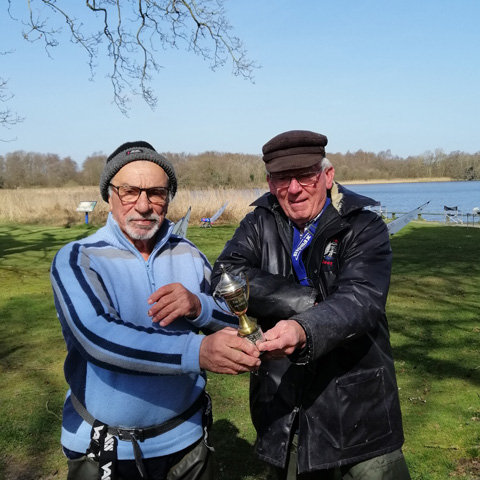 And finally, the 2020 VICK BUCK TROPHY goes to ........ VINNIE
Well done all !!
*************************************************
Thursday 1st April 2021... First outing report written by Nigel Featherstone, our secretary et al, who has worked so hard this year to support our club.THE BROADS RADIO YACHT CLUB.................Thanks Nigel
Hi All,
At long last the club returned to active sailing for the first time this year on Wednesday.
It was decided that the first day would be a series of shake down races to check what was working and wot was not before going into the more serious racing series as from Sunday 4th April.
Wednesday morning saw 9 club members ( one boat less at the time) plus Raymond's guest for the day Richard Dell. Welcome Richard and I hope you had an enjoyable morning's sailing. On arrival lakeside the sailors were greeted by a light variable wind from the north and a pleasant warm day for the time of the year.
As the nine skippers rigged their boat NIgel went about setting the course before returning to shore to be replaced by Vinnie who then went out and set a proper course.
Nigel and Gareth decided that as they had only one boat between them they would take it in turns as race offices so proceedings got under way be it a little latter that planned due to course adjustments with Nigel as R/O. All skippers seemed keen to get out of the blocks in the first race unfortunately Vinnie was a little too keen to get racing again and was called over at the start. Matthew went on to win race one. Normal service was resumed in the next 3 races with Vinnie taking line honours in each. By this time Richard was starting to get the hang of this RC sailing lark and started to show his metal when it came to starts often getting the better of the more experienced skippers before falling back through the fleet as he tried to get to grips of not actually being onboard the boat and the lake's strange wind holes.
Race 5 threw up a surprise (?) race winner in Raymond who in the previous 4 races had been struggling towards the back of the fleet ( Raymondo's youthfull exuberance coming to the for!.. more like ). Races 6 & 7 saw Matthew taking 2 bullets with Vinnie struggling at the back of the fleet thus making racing for the top position overall very tight. Race 8 brought another first for Vinnie and with Matthew recording a DNF, all rested on the last race for the honour of winning the "Rusty Fingers" Trophy.
So race 9 proved that lightning can strike twice in the same spot with Raymounfd taking line honours for the second time on the day, with Vinnie finishing 2nd and with Matthew mid fleet. So when the scores were calculated Vinnie emerged as the winner on the day with Matthew 2nd and Derek Jones 3rd.
All in all, a good day and start to the 2021 sailing season. CLICK HERE FOR RESULTS
This Sunday sees round 1 of the "Barry Gailer Trophy", first start scheduled for 10am.
Regards, Nigel
****************************************************************************
APRIL 2021 SAILING SCHEDULE
| | | | | |
| --- | --- | --- | --- | --- |
| Date | Day | Class | Event | Race Officer |
| 31/3 | Wednesday | IOM | "Rusty Fingers" | |
| 4/4 | Sunday | IOM | Barry Gailer Trophy Round 1 | Nigel Featherstone |
| 7/4 | Wednesday | IOM | Old Codgers Trophy Round 1 | |
| 11/4 | Sunday | IOM | Barry Gailer Trophy Round 2 | Neil Cousins |
| 14/4 | Wednesday | RM | Porter Cup Round 1 | |
| 18/4 | Sunday | IOM | Barry Gailer Trophy Round 3 | Mel Catchpole |
| 21/4 | Wednesday | IOM | Old Codgers Trophy Round 2 | |
| 25/4 | Sunday | 6M | Little Audrey Trophy Rnd 1 | |
| 28/4 | Wednesday | IOM | Old Codgers Trophy Round 3 | |
Think that's about all for now and let's look forward to fair winds and good sailing for the forthcoming sailing year.
Regards,
Nigel
 Picture of my part finished Scottish new boat ... "IOM Lochdown"
All the best, Nigel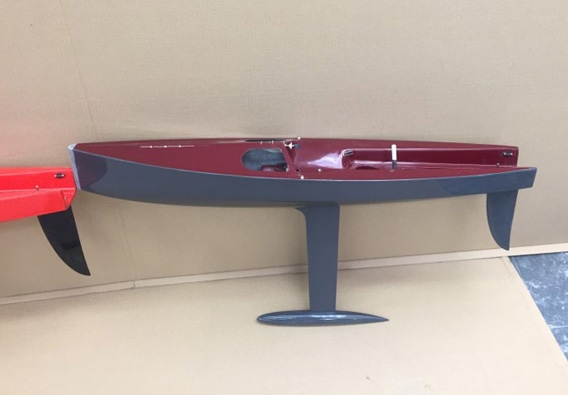 FINGERS CROSSED>>>SAILING COMMENCES MARCH 31st..click here for Sailing Programme
Top tips from Brad G with comliments from Duncan at NMYC . Click on the link below.
http://www.bgsailsanddesign.com/toptips.html
MARCH 2021
Hi Skippers,
Welcome to the latest edition of Mainsheet. Hope you have all been keeping busy and well. I have just had my first vaccination well ahead of time so I hope that many of you will also have had yours by now.
Following on from my communication as regards to the post of temporary commodore to which I only received one reply it would seem to make sense to leave this post vacant until we can call a proper EGM to select a new commodore. The first likely date for this will be hopefully early July.
As regards to the latest Covid-19 announcement re the road map out of restrictions, I am delighted to see a route that should allow us to return to the water by the end of March. At present I await conformation from the MYA as regards to actual dates but suffice to say, once I have conformation, I will advise you all accordingly.
Before we can get back on the water, there are a few things that need attention lakeside before we return and I wish to thank Vinnie for volunteering to take on these jobs for us. I am sure if he requires any help he will only need to ask nearer the time and people will come forward.
I have now drafted a sailing Schedule with a start date from the 31st March. The schedule will be a little different as from previous years but hopefully restrictions permitting all club trophies will be raced for, be it some on a reduced number of rounds plus, I have added a third series to the IOM Wednesday calendar. As for the 6Meters I intend to run the "Whitbread Trophy Series" as a block of 6 race days both on Wednesdays and Sundays during the period set aside for the weedy season, conditions allowing. These dates could be subject to change due to as and when the weed arrives. Also, I have moved the venue for the 6M "Shearwater Trophy" on the 9th May across to Norwich, as we will still not have any facilities available to us at Filby. Please support this club event, even though it is being sailed at Norwich. No club racing will be held that day at Filby.
Last but not least we held a short club Zoom meeting on Wednesday 24th which was attended by 6 members and the general feeling of those who took part was that we should arrange one more before we return to the water. So, with this in mind I will arrange the second BRYC Zoom meeting for Wednesday 17th March again at 10am. Please let me know if you wish to attend.
That's about it for now but hope to be able to circulate the clubs sailing schedule to you all sometime early in March. In the meantime, with the return to water looking likely soon, maybe now is the time to dig your boats out and check all is working and not leave it to the last moment.
Nigel
FEBURARY 2021
Firstly, I would like to start this latest offering by saying that I hope you and yours are all keeping well in these difficult times. By now I am sure that some of you have had your vaccinations and hopefully a few more of us should receive ours by the end of February.
Unfortunately, not much to say this time round as we entered 2021 under a tier 4 lockdown which was then quickly replaced by a total lockdown on the 5th January which put a kibosh on any hope of sailing during the early part of the year.
After a very wet Christmas period we did manage to get a small work party of Mike, Vinnie, Derek, Gareth and myself down to the club on the Wednesday between Christmas and the New Year to lift the club boat ashore. Thanks team, because if we had left it any longer the boat would have filled up with rain water. A cover has now been purchased which hopefully should reduce the amount of rain water that gets into the boat when left standing for any length of time and will be fitted once the boat can be refloated. It may need some adjustment but I am sure that will not be a problem.
Following a discussion between ourselves and our friends at Norwich we have decided to switch venues for this year 6M Shearwater Trophy away from Filby to Norwich for 2021. The date chosen is Sunday the 9th May. The reasoning for the switch was twofold, firstly with COVID-19 the chances of the restaurant at Filby being fully operational by then is low and secondly with Norwich holding the 6M nationals later on in the year it would give potential competitors from outside the area coming to the Nationals a chance to sail on the waters prior to the Nationals and also giving the Norwich race team a practice event as regards to 6M.
As regards to commencement of sailing for this year, there is not much that can be done until Covid-19 restrictions are lifted and we see what is left of the year before compiling a race calendar of sorts.
So as arms are duly vaccinated, our lives are newly injected with a fresh sense of optimism for a sunlit spring with plenty of sailing opportunities ahead....................................( beautifully expressed )
Nigel
Click here for ......Americas Cup Live