Welcome to the BRYC NEWS 2019
PRESENTATION EVENING 2019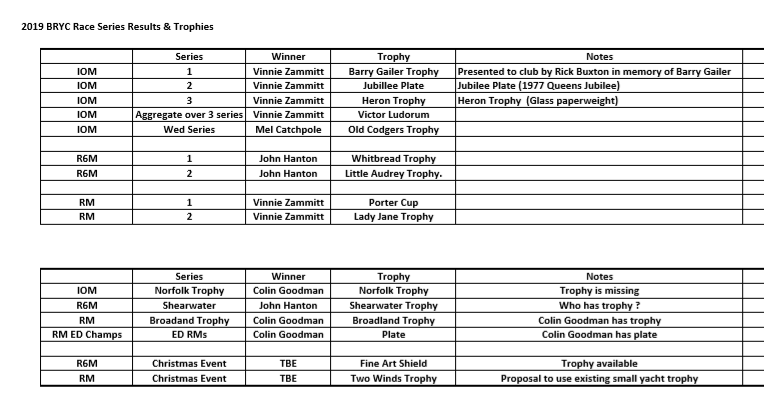 Vinnie Zammitt

Winner of the Barry Gailer Trophy

IOM Series 1

Vinnie Zammitt

Winner of the Jubilee Plate

( 1977 Queens Jubillee )

IOM Series 2

Vinnie Zammitt

Winner of the Heron Trophy

IOM Series 3

Vinnie Zammitt

Winner of the Victor Ludoram Trophy

for the best aggregate score over the 3 IOM Series

John Hanton

Winner of the Whitbread trophy

R6M Series 1

John Hanton

Winner of the Little Audrey Trophy

R6M Series 2

Mel Catchpole

Winner of Old Codgers Trophy

Wednesday IOM Series

Hi All

We had a very enjoyable presentation evening tonight at Filby Bridge Restaurant with most club members attending.
Hi Skippers,
Well that is Christmas over for another year and I hope you all had a good one.
Thought I would start this mainsheet with a round up of the sailing programme over the festive period. The R6M The Fine Art Shield which was scheduled to be sailed on Sunday 6th December was postponed due to the weather and now will be sailed for on Sunday 12th January as part of the first R6M series race.
Next up was the "Two Winds Trophy" sailed over the following 2 weeks. The first racing day was at Filby on the 15th with 7 boats taking part of which I am sorry to say only 2 where from BRYC, Neil and myself. Bernie did intend to race but was held up by the river running high which delayed his arrival but he did reach us just in time to take on the duties of RO and long distance recovery service for the day. Eight races where completed on the top end of "B" rig . Racing was called to a halt after 8 races as the wind was increasing and the attrition rate was also rising. So at the mid point of the 2 days racing Ian Self had a slight lead over Vinnie to be taken into the following weeks racing.
As the sailors gathered on the following Saturday at Whitlingham we where greeted with heavy rain and very light wind so coffee was taken early. Following coffee the helms gathered water side to decided if we should race or not. Right on que the sun appeared and the wind picked up and it was decided to race. Neil took on the duties of race officer after damaging his boat the previous week which he was unable to repair on time. The six skippers from the previous week took to the water and where joined by 2 other members from Norwich. This time round sailing was on top set and we managed to squeeze in another 9 races to take the total of 17 for the series. Racing was close at the top between Ian and Vinnie who where also joined by Graham Nelson. Going into the last race Ian was still heading the field by just 0.8 of a point with Vinnie now hot on his heels. In the end Ian missed a mark which left Vinnie to sail away and win the last race and the series overall. Unfortunately to say that both Neil and myself filled the last 2 places on the water overall so room for improvement for next year. On the plus point I had just added a Marblehead to the fleet ( with the aim to increase the numbers of our own fleet) and despite loads of teething problems the boat showed lots of speed when I did manage to finish a race. Something to be worked on before the first of our own series on 16th Feb. My thanks go to the 7 boats from Norwich for joining us to make this an enjoyable event. My thanks also go to Beryl for scoring and Neil for RO.
Next up was the NMYC Christmas Mini Regatta for the "Kingfisher Trophy" on Saturday the 28th . 12 boats had entered 5 from us, 5 from Norwich and then Vinnie & Eric who are members of both clubs. Unfortunately due to gear failure prior to the start Alan Bright had to withdraw from the days racing thus giving us 11 boats on the water racing. On the plus side this allowed him to volunteer to be the RO for the day ably assisted by Beryl as scorer. Winds where light but it was mild and dry which was on the plus side. Racing started sharp to time and following a stop for mince pies and mulled wine a course shift was decided to try and get some better winds. At the end of the day it was a better performance all round by Broads club members after our showing in the Marblehead fleet with Terry sailing his new Ellipse for the first time in anger taking first place overall with Neil finishing third with Vinnie splitting the 2. It is our intention that this event will be repeated again next Christmas.
For those of you who where unable to make the presentation evening on the 4th at Filby ( unfortunately I was one of those having to cry off at the last moment due to a bad back)the list of winners for the various series was as follows: R6M - John Hanton picking up both, IOM Wednesday series was won by Mel Catchpole with Vinnie picking up the rest ( 3 IOM & 2 RM and the IOM aggerate trophy. (Eds. Note, along with winning most of our trophies Vinnie also picked most of the Norwich trophies as well so I think Santa will need to deliver some silver polish for Xmas)
Now for the sailing schedule for January which will start on:
Sunday 5th Jan with IOM's (Neil RO) followed by
Sunday 12th Jan which will be R6M ( SP) for the first of the series for the Whitbread Trophy and also Fine Art Shield. Normally the 6M self police but as we will also be racing for the Fine Art Shield as well it would be good if someone could step forward for RO duties on that day. Also following this days racing the presentation will be made to the best placed Broads club member from 2 of the 3 events held over the festive period for the C & S Buxton Memorial Trophy.
Norwich have also invited our Marblehead skippers to join them on Saturday 4th January for their first race day of the new year.
The water will then be closed until Sunday 9th Feb which will see the IOM's take to the water again. There will be no Wednesday sailing during January but we will reconvene on Wednesday 12th Feb for the first in the series towards the "Old Codgers Trophy".
Well I think that is about all for 2019 so can I take this opportunity to wish you and yours a "Happy New Year" and look forward to seeing you on the water in the New Year.
Nigel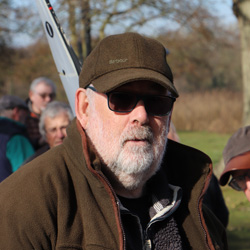 1st December 2019 IOM Day (7) Clean sweep by Vinnie 12 wins from 12 races.Probably best sailing conditions of the year pity only 4 boats on the water to enjoy..Click here for results
2019 WEDNESDAY SERIES
The Wednesday Series, introduced this year has got off to a good start.
The 4th December event will conclude the Series for this year.
This will give a total of 10 days sailed and 5 cancelled due to lack of wind or bad weather.
The average number sailing has been 5, which has led to some very good and enjoyable racing.
It looks as if 5 skippers will meet the qualifying 66% number of races.
The plan is to carry on this event in 2020 with a pre and post weed break series.
Geoff
24th November 2019 IOM Day (6) Nail biting stuff ! .......................Click here for results
Keith Whiddett
29 December 1948 – 22 November 2019
It is with regret that I have to inform the model flying and model sailing community of the loss of a lifetime aeromodeller, expert flyer and dear friend, Keith Whiddett, who has died peacefully at his home following cancer.
Within his local flying Club, Keith was revered as the go-to test pilot by many members.  He was present at the formation of South Norfolk Model Flying Club on Hethel wartime airfield in Norfolk during the late 60's and progressed to becoming a long term committee member and trainer, helping to shape the Club as we know it today.  When the Club moved to Suton, Keith was always on hand to help with grass and hedge cutting using his own tractor and machinery.
His early modelling experiences started near to home at Eaton Park boating lake in Norwich, where he learned about engines from the boating brigade and quickly used those skills to start control-line flying on the park's sports pitches, much to the annoyance of the park keeper. It was at these sessions that I was introduced to a thirteen year old Keith as he was the engine starting expert and competent flyer.  He taught me to fly control-line aircraft and from there we together joined Norwich Model Flying Club so that we could engage with the big boys on Horsham St Faiths airfield, now Norwich Airport.  The schoolboy Keith and myself built models in his garden shed and went on to fly Combat at the National Championships.

The mid 60's saw Keith temporarily distracted by beer and fast Minis, wheeled and on legs, before becoming an early adopter of transistorised multi channel radio controlled models and from then on never stopped flying and helping to enthuse a host of modelling friends.  When model helicopters first emerged, Keith was quickly to become an expert flyer, giving demonstrations at fetes and shows all over Norfolk.  He eventually became the Area Chief Flying Examiner (Helicopters).
Keith's next challenge was getting to master turbine engines and scale model jets at which he excelled, giving demonstrations on the Flight Line at the National Championships on many occasions.  It was during this period that Keith joined other clubs in the East Anglian area that had Tarmac runways, making more friends along the way.  For more than a decade, Keith also organised flying displays at the Cromer Carnival, thrilling the crowds with jets, helicopters, gliders and fixed winged aircraft, on a tiny cliff-side flying site.
Later on, Keith had the yearning from his younger days at Eaton park, to become competent at model yachting.  As is his way, he soon became very competitive at sailing and enjoyed several seasons at the sport before he fell under the spell of model aircraft once more.
After retirement from being a self-employed plasterer, he continued to fly radio models and to build working model engines at home.
I am indebted to Keith for teaching me many things in life, not just about modelling.  Like the older brother I never had, he demonstrated how to chat up girls, how to dance, and how to get served in pubs under age.
Keith leaves Judy and three grown up sons, Jason, Steven and Lee.
Bill Newson,  South Norfolk Model Flying Club and RAFMAA
17th November 2019 There was not much wind yesterday for the RM event. I received a note from Nigel. They sailed only 3 races and decided to cancel the day.
13th November 2019 Click here to see Wednesday results. Think it was a good day had by all, good sailing conditions, dry and good company. Tight sailing at both ends of the fleet. Overall winner was decide on the last race. WELL DONE MEL !!!!!!!
Click here for "Mainsheet" XMAS 2019 (Newsletter from Nigel)
Click here for "Mainsheet" 2nd November 2019 (Newsletter from Nigel)
20th October 2019
BROADLANDS TROPHY WINNER

Broadlands Trophy

BROADLANDS TROPHY 2019
The Marblehead event for the Broadland Trophy and Eastern district championships was sailed at BRYC on 20th Oct 2019
There were 9 entries who sailed 18 races during the day.
Racing started in a very light wind from the North, which is the most favourable direction at Filby  There were 3 different race winners, during the day, but Colin Goodman (Grunge), Duncan Ellis (Grunge) and Vinnie Zammit (Starkers Cubed) gradually established a lead over the remainder of the fleet.
Later in the day, the wind veered to the east and freshened slightly, which required some course changes.
In the end Colin's consistency won the day, after some very close and competitive racing.

Leaward mark

(or go to the results page)

1st Colin Goodman

2nd Duncan Ellis

3rd Vinnie Zammit

Ian Self did very well coming 4th

13th October 2019

IOM Third Series Day(3)

3 points covered 1st 4 places. Very close!

Well done Pete Sutton

A good day.

Hope Neil retrieved the last red bouy safely ?

2020 Programme

Dear All,

I have just started to prepare next year's sailing schedule(2020).
Following on from this year, the R6Ms and RMs will be self "policing"
There will be around 18 days to cover, plus open meetings, so it should be 2 duties each.

Please let me know of dates that you cannot do RO duties.

Many thanks,

Geoff                g.josey@sky.com

coming up Broadland Trophy
Marblehead Open Meeting
on 20th October 2019
Hosted by The Broads Radio Yacht Club
Venue :-
Filby Bridge Restaurant
Ormesby Little Broad
Filby
Norfolk
NR29 3AA
Briefing – 0945
First race – 10-00
No race to start after 1600 and any race in progress at 1630 will be abandoned.
Entry fee £5.00
Entry closes 18th October.
MYA SS's will be used
Competitors should note that they will be required to undertake to race in compliance with the RYA RACING CHARTER.
To enter please either use the MYA on line entry form ( click link below)

https://mya-uk.org.uk/event/broadland-trophy-eastern-district-championship-games-11/

or e mail
Geoff Josey
g.josey@sky.com

15th September 2019

Norfolk Trophy

The IOM Series Norfolk Trophy (EDCS 5) was sailed on 15th September at the Broads RYC.
There were 9 entrants who completed 18 races. The wind was force 1-3 from the NW which  is the ideal direction at Filby.
There were six different race winners, but by lunchtime Vinnie Zammit and Jim la Roche had broken clear. The middle of the fleet was very close with only few points between 4 or so entrants. This led to some very close competitive racing in some very pleasant Autumn weather.
Vinnie won the event with 32 points followed by Jim La Roche with 34.
Then  there was a gap to Mel Catchpole in 3rd place with 56 points. Unfortunately, Mel had battery problems during the day.

Geoff Josey

Vinnie explaining to Jim that you really do not need all that kit to go to an open meeting.

Jim was on the way back from visiting relatives in Lincs.

18th August 2019

IOM Second Series Final Day(7)

Good to see 10 boats on the water for the second week on the trot. Shame about the rain for the last race. Thanks go to Terry for doing RO duties to day.

Another great turnout, good weather, GREAT DAY !

Well done Vinnie ! For both today and winning Second Series

( of course subject to VARO checks ).

Video Assistant Race Officer
Notice of Race
Norfolk Trophy
EDCS 5
IOM Open Meeting September 15th
Hosted by the Broads Radio Yacht Club
Venue
Filby Bridge Restaurant
Ormesby Little Broad
Filby
Norfolk
NR29 3AA
Briefing              09-45
First race          10-00
No race will start after 16-00 and any race still in progress at 16-30 will be abandoned.
Entry fee £5-00
Entry closes on 13th September 2019
MYA SSI's will be used
Competitors should note that they will be required to undertake to race In compliance with the
RYA RACING CHARTER.
To enter please use the MYA on line entry form https://mya-uk.org.uk/event/ed-norfolk-trophy-edcs-5/
or e mail Geoff Josey
g.josey@sky.com
Hi All
This Sunday the final race in the IOM 2nd series will take place with Terry as RO. Vinnie has sold his R6M and has volunteered to be RO for the rest of the R6M events. Sun 15th Sept we are hosting the Norfolk Trophy for IOM. This is also the EDCS Round 5 so we should have some visitors to join us on the day. Any volunteers to assist with the running of this all day event would be gratefully appreciated.Thurs 19th Sept / Club AGM / Filby Village Hall/ 1930 - details and agenda to be confirmed.
Sun 20th Oct we are hosting the Broadland Trophy for RM. This is also the Eastern District RM Championship and Games so we should have some visitors to join us on the day. Any volunteers to assist with the running of this all day event would be gratefully appreciated.
Xmas Dinner / Presentation Evening / Filby Bridge Restaurant / Fri 6th Dec - more details to follow.
A discussion took place over coffee this morning concerning Wednesday sailing.
It is at present very hit and miss. Last week we had a great mornings racing but this week only one boat took to the water.
To try and encourage participation, for the rest of this years season, it is proposed to trial an IOM Wednesday Series commencing Wed 28th Aug / 4th Dec - a series of 15 weekly regattas.
Race days will be as normal - 1000 start / coffee / last race not to start after 1230.
No RO / Self Policing - it currently works well with RM & 6RM
Points / discards as on Sundays so a weekly winner will be decided on the day.
The series winner will be decided using competitors points totals from 2/3rds of the races sailed during the whole series.
eg. 15 days sailing / 10 races a day / 150 races in total / 100 race results to count / your worst 50 results are discards.
This gives members 4 options
- Knowing that Sailing will take place on a Wednesday and can join us for a coffee.
- Sometimes sailing and hoping to be that weeks Champion.
- Not being able to sail all morning / every morning but still sailing enough races to win the series.
- Sailing every week to get the best chance of winning the series.
Weather forecast and wind look good for Sunday ( I think that I mistakenly said that about last weekend ).
I hope to see you then. NEIL
11th August 2019

IOM Second Series Day(6)

A great turnout, good weather, flukey wind GREAT DAY !

Well done Neil !

All down to the last race!

Shame about the RO.........

.........only joking! xx

4th August 2019

RM Second Series Day (1)

The test sail last Wednesday turned out to be not totally accurate. Light Southerly, very changeable, airs meant there was very little boat boat heeling. That combined with a low water level meant we encountered some patches of weed with the Marbleheads . Despite this we had a very enjoyable mornings racing. Alan joined us for further trials with his recently constructed Marblehead and many thanks must go to Beryl who volunteered to record the finishes. Bernie and John C did come along with their boats but unfortunately technical difficulties prevented them from racing. Click here for results ......Well done Vinnie!

This Wednesday the weather forecast looks good with sunshine and a moderate SW wind, so offers the opportunity to practice for the resumption of the IOM series next Sunday, 11th August

I hope to see you there.

Summer Weed .....Mel and Neil testing for weed.
2nd June 2019

IOM Second Series Day(2)

Well done Nigel!

Looks like a close run thing!

26th May 2019

R6M First Series Day(5)

Well done John!

Another good mornings racing at Filby. The self policing worked well until coffee then Mark arrived and generously volunteered for the rest of the morning.

During Coffee we discussed the races postponed / abandoned earlier this year - RM ( 21st April ) & R6M ( 13th Jan)

It was proposed ( if the weed does not make it impossible) to reschedule the postponed RM race on the 16th June and the abandoned R6M the week after on the 23rd June. As today RO duties could be self policing.

Most of those who would be racing in these rearranged events were there today and agreed.

It was also thought not to rearrange the current schedule unless the weed prevents us restarting on the 14th July.

Informal one off events could take place on the Weedy Sundays if sailing is possible.

12th May 2019

IOM Second Series Day(1)

Well done Vinnie!

5th May 2019

R6M First Series Day(4)

Click here for Day (4) results

Well done John ! A long day.

Shearwater Trophy results below.

28th April 2019

IOM First Series Day(7)

Well done Terry!

Click here for Day (7) results
Shearwater Trophy results
For detailed results click here
Shearwater Trophy
6M Open meeting
5th May 2019
Hosted by The Broads Radio Yacht Club
Venue:
Filby Bridge Restaurant
Ormesby Little Broad
Filby
Norfolk
NR29 3AA
Briefing: - 09.45am
First Race: - 10.00am
No race will start after 4.00pm and any race still in progress at 4.30pm will be abandoned.
Entry fee: - £5.00
Entry closes on: - 3rd May 2019
MYA SSI's will be used.
Competitors should note that they will be required to undertake to race in compliance with the RYA RACING CHARTER.
To enter please use the MYA on-line entry form or
e-mail Geoff Josey -:
g.josey@sky.com
7th April 2019

R6M First Series Day(3)

Well done Bernie!

24th March 2019

IOM First Series Day(5)

My highlight of the day was boat 78 having to do a penalty turn for running into the back of 17 as it was not going fast enough!!!!

17th March 2019

IOM First Series Day(4)

Looks like a close day between Pete and Terry. Click here for results

If more details are available please send to eric.curtis2@gmail.com ...........Thanks.

Well done Pete !

24th February 2019

IOM First Series Day(3)

Despite light Southerly airs a great mornings racing was had at Filby this morning. Many thanks to Race officer Mike Howard. Click here for results

Not again.......VZ won!

17th February 2019

RM First Series Day (1)

Winner......Guess who?

10th February 2019

IOM First Series Day(2)

IOM racing restarted at Filby today. The weather was not as bad as forecast and some good close racing took place during the morning.

Four boats turned up with Vinnie, no.17,winning most of the races. Click here for results

*********************************************************
Take a break till February 10th ......WERE BACK SUNDAY !

IOM First Series Day(2)

Should be a good day ?????

My weather expert says it's gonna be a blustery day.

He who walks on water is RO.

******************************************************************

13th January 2019

R6M First Series Day (1)

Not the greatest day with six boats turning up and few not sustaining minor damage of some sort on a very windy day. Elizabeth allowed me to sail her Bellair for which I am very grateful but I only managed to complete one race ( along with Terry) due to the conditions. John and Bernie finished two races and then decided to call it a day. The risk to the boats was too great. Click here for results

Picture is of Bellair (sail no. 0) leading the fleet of course sailed by Elizabeth.

**********************************************************

6th January 2019

IOM First Series Day (1)

Sunday was disappointing with only 5 boats in light airs and No1 rigs and a great new course board built by Neil! An Interesting day? Vinnie, no.17,winning the day. Click here for results

*******************************************************************
Lets all try moving in the same direction!

Happy new year to one and all !

Start of a new year!

Lets have another great years sailing!

******************************************************************
****************************************************