Welcome to the BRYC NEWS 2018
Letter from Nigel Featherstone
My brother and myself have just moved to the area from Pembrokeshire and will be joining you on the water once we have sorted our new home out in a couple of weeks. I already have a boat and have sailed at Swansea MYC the past ten years and before that at Dartmoor but we are looking for a
beginners boat for my brother
so that he can join me on the water. I have sailed a couple of times at your club as a visitor in the past and know Bernie quite well.The reason for the email was we where wondering if you could put a piece on the club web site asking if any members had a boat for sale suitable for a beginner. Look forward to meeting you lakeside in due course. ............contact ......
01603 782854
.............. OR..........
nigelandgareth@gmail.com
Regards, Nigel Featherstone
25/02/2018 IOM Race (3) There were just six skippers who braved the cold easterlies this morning. A welcome stranger back to one metre sailing was Bernie Guest, so unusual was it to see him Terry asked if he was lost! Alan Bright as RO set a straight windward leeward course with a gate at the leeward end, all racing was fairly close inshore due to the sheltering effect of the trees not having too much effect although some skippers thought otherwise at times, especially when they sailed into the inevitable Filby hole! With 1 race sailed, won by Bernie, proving a well sailed older design (Topico) can mix things up against more modern boats. Terry won race 2 just beating Neil sailing his Robot design. After coffee, Tony decided it was warmer in the cafe and stayed there! Racing continued with Vinny providing everyone with a laugh during the morning, his catalogue of errors reads like a pantomime! First he sailed with loose shrouds, then his rudder was out of alignment, then his mainsail luff was not set up and finally he hooked the start mark and towed the buoy around at the start of another race, He finally got his act together winning races 4, 6 and 7. Peter had mixed results but managed to win race 5. With everyone getting very cold the racing stopped after 8 races were completed with everyone's welcome agreement.Thanks ALAN Click for days results
Week after, 4/3/2018 is just practice sailing at Filby BUT............. THE YARE CUP ( EDCS2) for IOM's at Norwich on Sunday 4/3/2018. Get MYA No., Sail no., boat model, Frequency,emergency contact no., to Vinnie ASAP! ..vinnie.zammit@gmail.com
Next week is IOM's 25/02/2018.
18/02/2018 RM Race 1 A nice sunny day? Filby hole played its usual game ,wind 1 - 2 mph from sea, flat calm , no movement .Course set by Mel the R O was a triangle rounded to starboard twice. Only four boats all things considered racing was close . Bernie had a one metre keel and lead so he got fantastic acceleration which gave him the day. Bernie fairly comfortably won day? Winning 5 out of 8 races.( Thanks Terry). See results
11/02/2018 R6M Race 1 A nice sunny, dry crisp morning. The wind a favourable westerly but unfortunately was a bit stronger than we would have liked. It varied from 18mph to frequent 35 mph gusts.
Many Thanks to Vinnie who arrived early to help me set a course. The strong wind made setting the course challenging as steering the boat where you wanted it to go, and dropping buoys in the required places was not the easiest of tasks. Four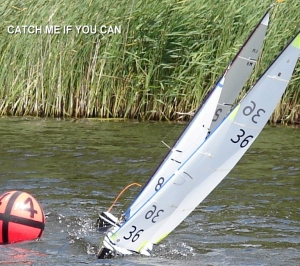 competitors turned up so racing commenced at 10.00. All boats seemed to be rigged with their smallest set of sails but even these were too big when the gusts came. Boats were often laid flat, submerged or virtually uncontrollable. Two races were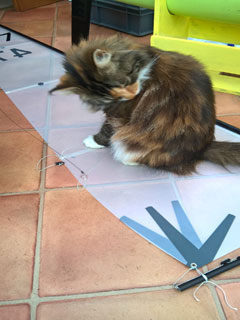 completed before coffee with John winning both. Not bad with a set of sails hastily cut down the previous evening.( Did Bella have anything to do with this?) The racing continued in the same manner.  There were often mishaps and infringements but all the skippers completed penalties without hesitation. John performed well and again took the next two races. After a slight break to empty out water and adjustments to their boats rigging Terry started to show great pace and after two very competitive races managed two wins. The wind was increasing and unfortunately both Bernie and Michael were having boat problems which forced them to retire. An early finish was then decided upon.Click for days results. The conditions on the day were extremely challenging but all skippers provided spectacular and entertaining racing for the spectators on the day. Report by Neil
Sunday began with a very strong westerly wind, about 20 mph gusting to 30 at times. Neil, the RO, set a windward leeward course with a gate. Sad to say there were only 4 boats. Cant tell you who won but it was close racing . All of the boats took on water. Bernie was the first to retire followed by mike. JOHN and I had a chat and decided not to continue as boats were getting damaged. Neil did a fine job as RO but it was quite an ordeal for him getting the bouys in. Thanks to all for a very interesting day sailing the big boys( where was Liz !!!). Terry
Click here for this years sailing programme (if you can't be bothered to move your mouse/finger a little to the left !!!!)
Disclaimer When I said that sailing resumes on 11/2/2018 with the BIG boys I was in no way implying that Elizabeth was not included or " a BIG boy" or in any way trying to put down a member of the female gender( can't be too careful in the current climate). If these comments are inappropriate then.............sorry.
07/02/2018 The restaurant (have learned to spell in last 3 weeks!) opened today and the COFFEE club resumed its activities. Pleasant chat but windless ...............Terry had not had his usual beans on toast for breakfast!
Best wishes to Val from us all at Broads Radio Yacht Club
Winter break is upon us ...Restaraunt/resteraunt........cafe closed. Resume on 11-2-2018 with the BIG boys ....Six metres start Sunday 11-2-2018
14/1/2018 Last IOM race before winter break. Wind was South East ish,cold, gentle, holey( you know what I mean) and flukey. Terry was RO, setting a good a course in difficult conditions, and conducted the day in a friendly, professional manner.
Pete did it again claiming 5 of the 7 races, only seven due to time constraints. Vinnie and Eric sharing the other 2. Click here for days results.
Geoff Josey suggeats alternative racing when weathers bad but then adds controversial ageist comment!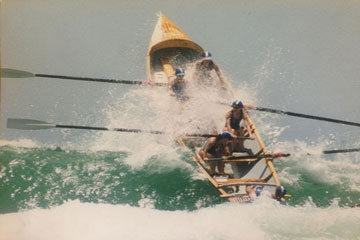 "Gig racing has become very active on the Blackwater with teams from a number of sailing clubs. Alas, I think most of our members are a bit mature to take part."
I think Geoff should be removed from all executive posts in the club and banned from talking to anyone over 60. Who does that leave??........... .......NEIL ! (so Neil says)
Next Sunday...2nd IOM race of the season.......Will Pete Sutton prevail again? OR will some of the other big hitters sort their act out and give him some competition................Who knows.
Hot of the press from Alan Bright!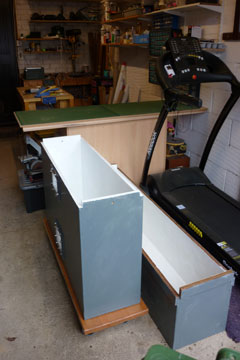 I am pleased to say that I have finally finished the two new tanks for measuring the six metre and
IOM classes.Click here for more details.
7/1/2018 . A cold,sunny, dry day with a brisk,blustery North-Easterly wind greeted the nine intrepid sailors who started the first race of the First IOM Series. Admirably RO'd by Elizabeth and her beautiful assistant Bernie.
Pete Sutton quickly showed his class by winning the first 3 races from which point he coasted to a Day(1) win. Well done Pete! Click for results.
Start of a new year! Happy new year to one and all! Lets have a great years sailing.